Dial-Up Username Update
Windows
Double click on the 'My Computer' icon. It is usally near the upper-left corner of your screen.
Double Click on the 'Dial-Up Networking' icon. A window named 'Connect To' will open.
In the 'User name:' field of the 'Connect To' window, change your username to 'username@ultima' (replacing username with your username). Please note that your username should be all lowercase, and there should be no spaces!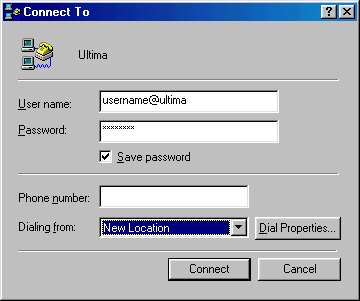 Your settings will not be saved until you successfully connect. Click the 'Connect' button. Your computer will now dial into the Ultima Networks servers.
If you do not connect successfully, double check your username and password. Sometimes it is good to erase the username and password fields, and reenter the data.
If you are having problems changing your settings, please send email to support at ultimanet.com or call our office toll free at 1.888.306.4007.