Dial-Up Username Update
Macintosh
Go to the 'Apple Menu' (upper-left corner of the screen), then to 'Control Panels', and choose 'Remote Access' (or 'PPP' depending on the version of the OS that you are running).
In the 'Name:' field of the 'Remote Access' window, change your username to 'username@ultima' (replacing username with your username). Please note that your username should be all lowercase, and there should be no spaces!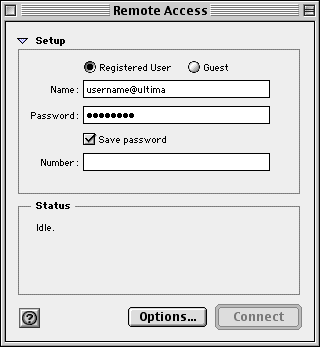 Close the 'Remote Access' window. You will be prompted to Save your changes. Be sure to click 'Save'.
That is all you need to do! Now try dialing into Ultima Networks, to make sure that you are able to connect to our servers with your new settings.
If you are having problems changing your settings, please send email to support at ultimanet.com or call our office toll free at 1.888.306.4007.